Next performance — our own Concert of Christmas Classics! 
Saturday, Dec. 16, 4:00 p.m.
Episcopal Church of the Resurrection, 2200 Justin Lane, Austin
Donations gratefully accepted at the door — $10 suggested.
Many thanks to Breed & Co., Charles Maund Toyota, The Frisco Café, and Papa Noel Christmas Trees for their wonderful support!  We had a blast caroling for you on Dec. 9, and look forward to next year's visits!
Come sing with us!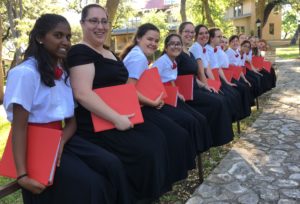 Placement auditions for new choristers start again in December — contact us now to schedule!
We're now in our 28th year of service to Austin area girls, and we're excited to introduce singers of all levels to the AGC experience!   We're looking for girls who love music and are ready to work hard to excel.  Please call us at (512) 453-0884 for placement audition dates and times, and put a $25 check to Austin Girls' Choir in the mail (PO Box 4026, Austin, TX 78765-4026) to reserve your 30-minute appointment.  New choristers will start rehearsals January 9.  (Fall auditions are now closed.)
Our choristers receive training in music theory, vocal technique and sightreading, and learn to sing in three- and four-part harmony.  They delight in a wide range of challenging repertoire, and enjoy frequent performance opportunities.  They build long-lasting friendships, learn teamwork and develop personal responsibility, self-discipline and performance poise.  And above all, they have fun as they grow!
We run year round, with the year divided into Spring, Summer and Fall terms. Girls age 8-14 with little music background audition for our Junior Choir; experienced singers age 13-18 who sightread music well join our Senior Ensemble. Intermediate-level singers age 11 and up often receive Dual Chorister status, which allows them to strengthen theory, sightreading ear and vocal production skills 6:15-8:15 Tuesday evenings, and learn advanced repertoire Sunday afternoons with the Senior Ensemble.   We ask each singer and her parents to commit to AGC for a full year. Please feel free to share our flyers (Fall 2017 Junior flyer – full page or Fall 2017 Senior-Dual flyer – full page )!
Tuition averages out to $100 per month, with payment weighted toward the start of each term, and various payment plans available. We offer school group tuition discounts, and will also extend that courtesy to members of a Scout troop, music studio or church (or temple) music program. At the beginning of each term (fall, spring, summer) a group of five or more from the same school can receive a 20% break in tuition as long as there are at least five students actively participating in Austin Girls' Choir rehearsals and performances. For those entering as a group for Fall 2017, assemble your group by October 5, contact us at 512-453-0884, and we'll set up convenient auditions and orientation.
Uniform and costume expenses for the year are under $125. Regular tuition helps to cover camp and workshop instruction; small additional fees are charged to defray costs of materials, rent and food, and support staff for camp and workshops. Travel expenses for optional trips and tours vary, but are kept as low as possible.  Parents are asked to help sell tickets for three fundraiser events per year that boost operational funds.  Our tuition rates are very competitive — compare with rates for a weekly half-hour instrumental or vocal lesson, elite sports and cheer — and include instruction in basic music theory, vocal technique, ear training and sight-reading skills.
During the school year, Junior Choristers rehearse on varied schedules 6:15-8:15 p.m. Tuesdays and Thursdays (young beginners 6:15-7:30); Senior Choristers rehearse Sunday afternoons 2-3:30 p.m. Dual Chorister status is granted to selected Junior Choir members age 11 and up; these girls rehearse Tuesday evenings with the Junior Choir and Sunday afternoons with the Senior Ensemble.  In the summer, we focus on camps (first two weeks of June after school is out) and tour (mid- to late June), rehearse only a few times in July, and then resume our regular schedule in mid-August.
What's in the works now?
We are focused on holiday music!  A large portion of our repertoire is a cappella traditional carol settings, which we recently sang for Dickens on The Strand (Dec. 2 in Galveston — our 25th consecutive year as featured artists!) and for caroling gigs on Dec. 9.  We also have some jazz/swing settings of holiday pop favorites, and plan a special set of these for the Chuy's Children Giving to Children Parade (Nov. 18), our own Christmas Concert Dec. 16 (4 p.m. at the Episcopal Church of the Resurrection, 2200 Justin Lane) and Trail of Lights performances (Dec. 17, Lobby Stage at 7:15 & 8:05 p.m., and Dec. 21 at 7:15 p.m.). And we've got a really exciting new piece that breaks to 6 parts, accompanied by percussion ensemble!
Check out our Austin Girls' Choir Facebook fan page, and be sure to "like" us!
What has AGC been up to lately? . . .
We enjoyed the opportunity to sing the National Anthem at the Dell Diamond again on Aug. 20 — a wonderful way to start off the school year.  And we've just finished our "An Enchanted Evening" shows — choreographed jazz, '60's and American Songbook selections — held at Shepherd of the Hills Lutheran Church Sept. 9 and Episcopal Church of the Resurrection Sept. 10.
We had an awesome concert tour through West Texas and New Mexico June 19 through 26! We sang at Grace Presbyterian in Midland, St. Andrew's Episcopal in Roswell, the Loretto Chapel and First Presbyterian in Santa Fe, the Cathedral of St. John in Albuquerque, the Episcopal Church of the Holy Mount in Ruidoso, All Saints' Episcopal in El Paso, St. Andrew's Episcopal in Las Cruces, and the Alpine Public Library in Alpine.  And along the way, we visited Carlsbad Caverns, the International UFO Museum in Roswell, the New Mexico Museum of Art, cliff dwellings at Bandelier, the Anderson Abruzzo International Balloon Museum, lava flows, petroglyphs, White Sands, and McDonald Observatory.  We were delighted both to renew old friendships and to build many wonderful new relationships! (Special thanks to Carol Wiggins and her fantastic Sweet Adelines chapter in Albuquerque for their terrific support on short notice!)
On June 10, between general camp and tour camp, we enjoyed the opportunity to share a concert with the Lawrence (KS) Children's Choir and the Treble Choir of St. Louis Catholic Church (Austin).
On May 21, we went into the recording studio to lay down some tracks for composer Jon Fortman's next album, which will come out in Spring 2018.  Both Jon and Orb Studio's engineer Hunter were terrific to work with, and we look forward to future opportunities!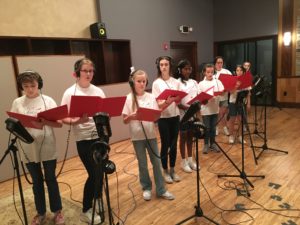 During Spring 2017, we sang for the Austin Family Camp Fair (January) and for the North Austin Optimists' Baseball & Softball Opening Ceremonies (March 25), plus put on our annual Madrigal Dinner, a full musical dinner theater show, on March 4.  And we enjoyed presenting our 25th annual Spring Tea in the beautiful facilities of the Seminary of the Southwest on April 30 — many thanks to Zhi Tea and all the wonderful chefs who provided a delicious high tea, and to the awesome friends and alumnae who attended!
From the mom of one of our charter members:  "I would encourage anyone in or near Austin to take their girls and try out for this choir. I can not begin to tell you all of the benefits we all received by my daughter being a member of this choir.  The music you taught my child was a great gift, but what you don't know is how it and everything else she learned with you affected her life later on through college and parenthood.  I only wish we lived closer, so some day my granddaughter could audition." — Ruthie Pyle
PHOTO GALLERY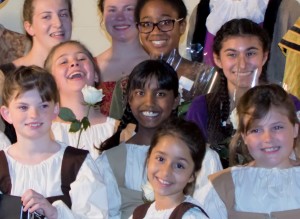 Madrigal Dinner — this annual musical dinner theatre event features a very family-friendly play written specially for our group and some guest actors from the community.  The girls sing, act, AND serve dinner!  The story usually incorporates Elizabethan ladies' dilemma of duty versus romantic choice in the early 1600's, with smart girls presenting clever and logical solutions!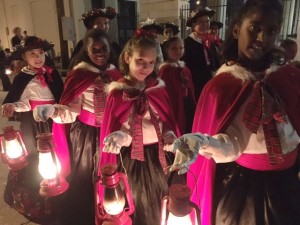 Dickens on The Strand – Lanternlight Parade – one of our favorite parts of the festival!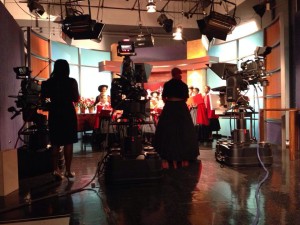 KEYE 2015 taping