Welcome to Austin Girls' Choir's website!
We are beginning our 27th year of service to Austin area girls, and we're excited to introduce singers of all levels to the AGC experience!   We're looking for girls who love music and are ready to work hard to excel.  And YES, there is still time to sign up for placement auditions!  Please call us at (512) 453-0884 to find out available dates and times, and put a $25 check to Austin Girls' Choir in the mail (PO Box 4026, Austin, TX 78765-4026) to reserve your 30-minute appointment.
Want to see us in action? Our annual "An Enchanted Evening" production is just around the corner! Come enjoy an hour's walk down Memory Lane — wonderful tunes ranging from American Songbook classics to the Beatles and Van Morrison, woven together with a fun script and a little poetry and dance! Great for all ages, open to the general public. Donations gratefully accepted at the door ($10 suggested, or whatever you wish to contribute).  Catch the show Saturday, September 10 at 7:00 p.m. in the Fellowship Hall of Shepherd of the Hills Lutheran Church, 3525 Bee Cave Road, Austin 78746 — OR on Sunday, September 11 at 7:00 p.m. at the Episcopal Church of the Resurrection, 2200 Justin Lane, Austin 78757. Refreshments and plenty of free parking are available both nights!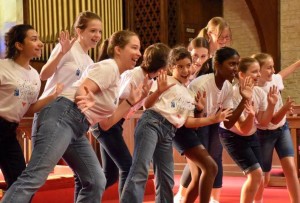 Our choristers receive training in music theory, vocal technique and sightreading, and learn to sing in three- and four-part harmony.  They delight in a wide range of challenging repertoire, and enjoy frequent performance opportunities.  They build long-lasting friendships, learn teamwork and develop personal responsibility, self-discipline and performance poise.  And above all, they have fun as they grow!
We run year round, and placement auditions for fall term entry are in progress for each ensemble. Individual audition appointments are set when we receive your $25 check at Austin Girls' Choir, PO Box 4026, Austin, TX 78765-4026. Girls age 8-14 with little music background audition for our Junior Choir; experienced singers age 13-18 who sightread music well join our Senior Ensemble. We ask each singer and her parents to commit to AGC for a full year. Please feel free to share our flyers (Fall 2016 Junior auditions poster or Senior audition poster )!
Tuition averages out to $100 per month, with payment weighted toward the start of each term and various payment plans available. We offer school group tuition discounts, and will also extend that courtesy to members of a Scout troop, music studio or church (or temple) music program. At the beginning of each term (fall, spring, summer) a group of five or more from the same school can receive a 20% break in tuition as long as there are at least five students actively participating in Austin Girls' Choir rehearsals and performances. Assemble your group, contact us at 512-453-0884, and we'll set up convenient auditions and orientation.
Uniform and costume expenses for the year are under $120. Regular tuition helps to cover camp and workshop instruction; small additional fees are charged to defray costs of materials, rent and food, and support staff for camp and workshops. Travel expenses for optional trips and tours vary, but are kept as low as possible.
During the school year, Junior Choristers rehearse on varied schedules 6:15-8:15 p.m. Tuesdays and Thursdays (young beginners 6:15-7:30); Senior Choristers rehearse Sunday afternoons 2-3:30 p.m. Dual Chorister status is granted to selected Junior Choir members age 11 and up; these girls rehearse Tuesday evenings with the Junior Choir and Sunday afternoons with the Senior Ensemble.  In the summer, we focus on camps (2017 general camp June 5-9, 2017 tour camp June 12-16) and tour (June 18-24), rehearse only a few times in July, and then resume our regular schedule in mid-August.
What have we been up to lately? . . .
(June 2016 West Texas / New Mexico tour photos coming soon)
We've just had our 24th annual Spring Tea, this year at the Seminary of the Southwest's beautiful Weeks Campus Center.  Many thanks to the wonderful chefs and bakers — and to Zhi Tea! — who provided an elegant, delicious fare for a delightful high tea, and to our terrific board for all their hard work in preparing for this lovely event.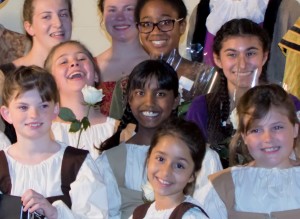 We presented our 13th annual Madrigal Dinner in March.  This musical dinner theatre event features a very family-friendly play written specially for our group and some guest actors from the community.  The girls sing, act, AND serve dinner!  This year's story incorporated Elizabethan ladies' dilemma of duty versus romantic choice in the early 1600's, with smart girls presenting clever and logical solutions!
We've had some fun performances this past fall (singing the National Anthem for about 5,000 kids at the Marathon Kids 20th Anniversary celebration Oct. 17, and appearing as our alter egos, the Austin Ghouls' Choir, on "'Twas A Dark and Stormy Night" Oct. 27) — in addition to our Rehearsathon, our annual benefit (Women Who Cook) and a very special presentation of "The Gift of Love" for the memorial service of board member Jeanette Ball.
Our 2015 holiday season (Nov. 28-Dec. 22) was a busy one, but it was great to be in such demand! We sang for private parties, several local businesses, the Chuy's Children Giving to Children Parade, the Trail of Lights, and our own big concert — and made our 23rd consecutive trip to Dickens on The Strand (in Galveston) as featured artists, singing 3 concerts and marching in 2 parades! Our heartfelt thanks to Papa Noel Christmas Trees, Breed & Co., Charles Maund Toyota, Chez Zee, and The Frisco Shop for their generous support.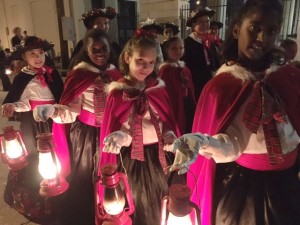 From the mom of one of our charter members:  "I would encourage anyone in or near Austin to take their girls and try out for this choir. I can not begin to tell you all of the benefits we all received by my daughter being a member of this choir.  The music you taught my child was a great gift, but what you don't know is how it and everything else she learned with you affected her life later on through college and parenthood.  I only wish we lived closer, so some day my granddaughter could audition." — Ruthie Pyle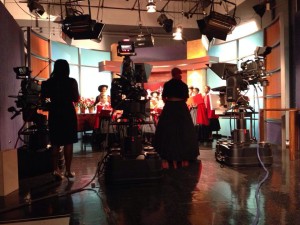 KEYE taping
Tour Camp 2015 included a trip down Memory Lane and across Abbey Lane!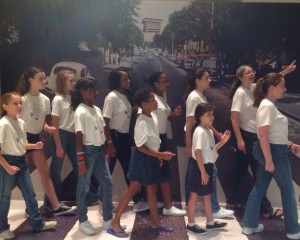 June 2015 concert tour — Trinity Episcopal Church in The Woodlands, Clear Lake Presbyterian Church, Gloria Dei Lutheran Church (Clear Lake), and Trinity Episcopal Church in Galveston — and lots of fun activities!